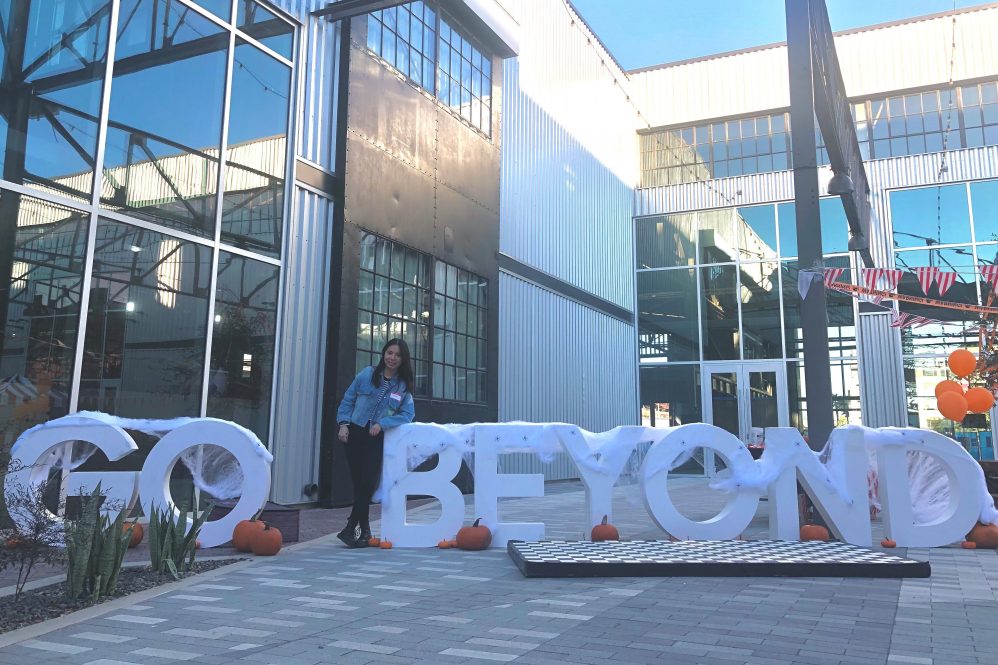 Read the story at UConn Today.
Taoran Wang is combining her life-long passion for food with her UConn education to expand innovation for plant-based food company, Beyond Meat.
Wang came to the College of Agriculture, Health and Natural Resources from China to earn her master's degree in allied health sciences. During her time in the master's program, Wang realized she had a passion for food science and decided to continue her education at UConn. Wang completed her Ph.D. in nutritional sciences in 2019.
Wang has always been interested in the culture of food. She was able to learn more about this at UConn during the first year of her Ph.D. in a class on food culture and society.
She learned that many people in eastern and southeastern Asia have long subscribed to plant-based diets, something that tied her interest in food culture with her concern for environmental sustainability.
Wang's dissertation research with associate professor Yangchao Luo focused on creating nano-sized delivery vesicles for bioactive compounds using natural biomaterials like lipids and proteins. This work is relevant to food science because it can aid in the production of functional foods which provide additional nutrients or have other desirable properties.
"He made me so, so, so interested in research, especially food science," Wang says. "That's the beginning of everything."
Wang's experience working with Luo, who has a background in food science, gave her important insights into how food and nutritional sciences go hand-in-hand. This has been important for Wang's current work at Beyond Meat.
"It was a good combination of both knowledge of food science and nutritional science and that's what we need in this company," Wang says.
After graduating from UConn, Wang worked as a postdoctoral researcher at Oregon State University. There, she developed edible food packaging. These polymer coatings would be a safe, sustainable way to extend a food's shelf life while cutting out plastic waste.
Wang currently works as a biopolymer scientist at Beyond Meat in California. Beyond Meat is one of the largest plant-based meat substitute companies.
Wang's work with Beyond Meat taps into a long-held concern for sustainability. Current meat industry practices have a tremendous negative impact on the planet. Large farms use huge amounts of land, water, and other resources while generating harmful greenhouse gases that contribute to global warming.
"I really care about global environmental issues," Wang says. "This could reduce the land and energy used to produce real animal meat."
At Beyond Meat, Wang and other scientists are continually working to improve their products so that they more closely resemble the sensory experience of animal-based meat. Beyond Meat's products aim to capture the taste, texture, smell, and cooking experience of meat. They also seek to emulate the nutritional content of animal-based meat.
A key to Wang's process is collaboration. In addition to her own team, she regularly works with the formulation and protein teams to make sure what her group is doing will work for the product overall.
"We have to work as a whole team to make a significant improvement," Wang says. "Even though we're from different backgrounds, we're all working toward the same goal."
Another key to Wang's work at Beyond Meat is the freedom she is afforded.
"If you have an idea you want to try – no problem," Wang says. "Our company really encourages people to be more creative and try different things."
---