Congratulations to Pingxu Qin on having her review article published in the Journal of Agriculture and Food Research. The article, entitled "A review on plant-based proteins from soybean: Health benefits and soy product development", provides an overview on the health and environmental benefits soybean protein, and its amino acid composition and protein digestibility. As one of the most popular plant proteins, its byproducts-making processes (heat processing, protein isolation, and fermentation) were discussed in detail in this review. Finally, the relationship between soy protein consumption and chronic diseases such as cardiovascular diseases, women menopausal symptoms, osteoporosis, cancer, and abdominal body fat, was highlighted by analyzing recent clinical studies. Please read the paper here.
Graphical Abstract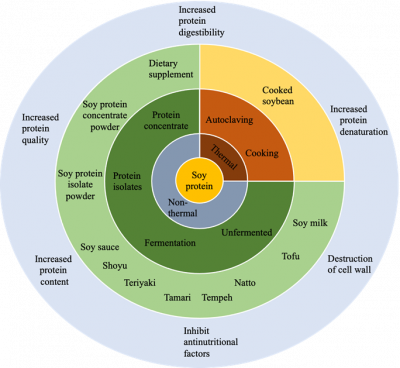 Highlights
Proteins from plant and animal sources were compared.
The processing technologies for manufacturing various soy-based products were introduced.
The health benefits of soy-based products on chronic diseases were summarized from recent clinical studies.
The preventive effects of soy-based products on various cancers were mainly discussed.